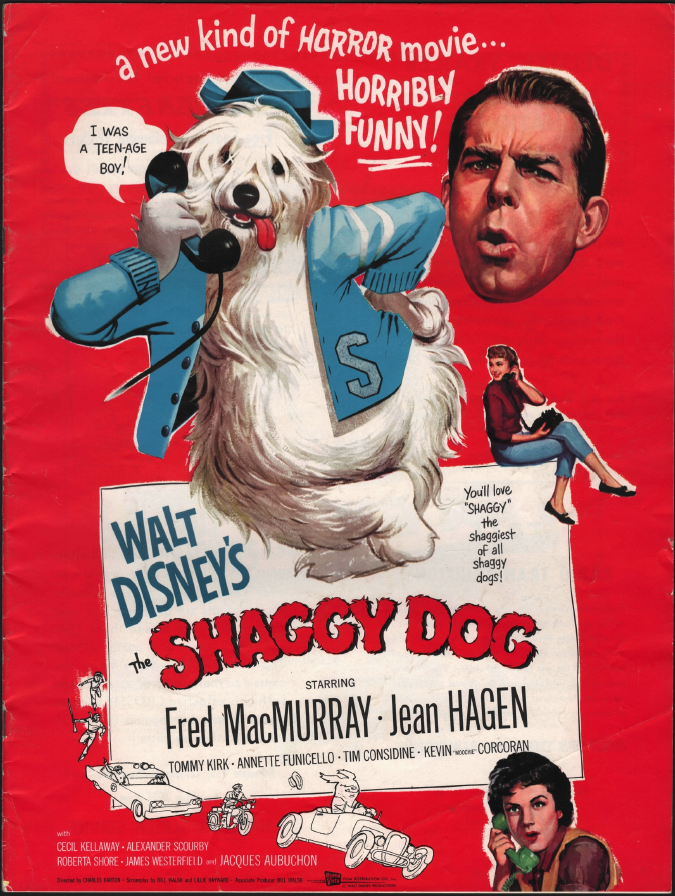 With the Disney Company releasing their new Disney+
streaming service, DHI will be covering a feature film each month. With Disney+
starting out with so many productions from their vault, we have decided to
start with the wonderful classic, "The Shaggy Dog". Each month we
will covering different aspects of the movie here on our website, our Facebook
page, Twitter, and the DHI podcast.
On the website we will cover the Campaign Manual with its many
different articles, advertisements, pre-written reviews, and recommendations to
the theaters to help drive traffic. To get a better understanding of the
Campaign Manuals, please look at our previous article of what they are.
For this article, we are just going to look at the movies synopsis
that is provided on page 23 of the Campaign Manual (CM). We leave the grammar
and spelling the same as what was the CM, and we are providing you with the text
of the article, followed by its scan. We look forward to sharing the amazing
stories, trivia, and facts about these amazing movies.
So, let's get started with Walt Disney's, "The Shaggy Dog", staring Fred MacMurray, Jean Hagen, Tommy Kirk, Annette Funicello, Tim Considine, and Kevin "Moochie" Corcoran!
SYNOPSIS- Page 23 of The Shaggy Dog Campaign Manual
"You've read of people being turned into foxes, cats,
and other creatures, haven't you? Superstition, if you like. But there are
lonely nights when something inside us begins to stir, a reawakening of ancient
fears. Could it be some instinctive belief that these things are true?
This suggestion is offered teen-age Wilby Daniels (Tommy Kirk)
one morning by whimsical Professor Plumcutt (Cecil Kellaway), in the town
museum . . .
Tommy lives on Maple Street with his father (Fred Mac-Murray),
his mother (Jean Hagen), and his younger brother Moochie (Kevin Corcoran). Next
door lives Allison D'AIlessio (Annette Funicello), who might be his girl if it weren't
for Buzz Miller (Tim Considine), his rival. And new tenants from Europe have
moved into the old mansion across the street: Dr. Mikhail Andrassy (Alexander
Scourby), just appointed curator of the museum, and his teen-age daughter Franceska
(Roberta Shore). They have a butler, Stefano (Jacques Aubuchon) and a dog named
Chiffon (Shaggy).
Leaving the museum, Wilby upsets a tray of antique rings and
helps Plumcutt pick them up. That night he finds a ring in a cuff of his
trousers. Curiously he repeats the Latin inscription to himself—and is
gradually changed into the shaggy dog. Panic-stricken, he streaks for the
museum on all fours and asks Plumcutt what he should do. But the best the professor
can offer is that sometimes magic spells come and go like headaches and this
one may just wear itself out.
Wilby goes home and to bed, and in the morning, still a dog,
reveals his plight to his brother, who is delighted to have a dog in the family.
Foraging for food, he is discovered by his father, a mailman
who hates dogs, has to flee for his life, and takes refuge with Franceska, who
of course mistakes him for Chiffon. Going shopping, she leaves him with Andrassy,
who has a visitor named Thurm (Strother Martin). The two men examine a set of
plans and speak of a mysterious "Section 32" which is all they need
to complete their project. The shaggy dog tries to get a look at the plans and
makes such a pest of himself that Stefano locks him in a closet. There, he
turns back into Wilby and escapes.
That night, he and Buzz go to the country club dance with
Allison and Franceska. He is blissfully dancing with Franceska when he begins changing
back into her dog. He leaves her before she notices in the dim light, but when
he tries to sneak out of the building, the change is complete, she sees him,
and the other boys pursue him at her request. He escapes and again takes refuge
at Franceska's house—as Chiffon.
That night Andrassy has another visit from Thurm, and Wilby
the dog, overhearing them, realizes they are spies plotting to steal something from
the missile plant. It is late next day before he can escape. He takes his
brother into his confidence and the two try to reveal the plot to their father,
but Mr. Daniels, hearing Wilby's voice coming from a dog, faints. They try to
tell Police Officers Hanson and Kelly (James Westerfield and Forest Lewis), but
the officers think it all a prank. And just then Stefano, the butler, collars
"Chiffon" and hauls him back.
Moochie convinces Daniels that Wilby has turned into a dog
and that the spy story is true. Daniels takes him to the missile plant and repeats
the story to security officers, but they think him psychopathic when he
mentions that his other son is a dog.
It is evening, Thurm, having succeeded in stealing
"Section 32," takes it to Andrassy, and the two plot to get it out of
the country at once. Listening in plain sight, Ihe shaggy Wilby learns that
Franceska knows nothing ahout their villainy and is not even Andrassy's true daughter.
But he changes buck to himself as he sits there and is trussed up by Stefano
and left locked in a dressing room when the three men take Franceska and speed
for the waterfront in a foreign car.
In the dressing room, Wilby changes back to the dog and
frees himself as Moochie arrives. Buzz has just pulled up to the curb in his jalopy
to take Franceska on a date. The shaggy boy commandeers the car and speeds
after the spies. Moochie and Buzz meet Officers Hanson and Kelly and take off
with them in a prowl car. The prowl car catches the jalopy, but the
"dog" driver switches to the prowl car and is off again. Mr. Daniels
appears and joins the chase.
At the waterfront Wilby-Chiffon is just in time to make a
pier-head leap and attack the spies as they prepare to escape in a speedboat.
The police, Mr. Daniels, Moochie, and Buzz arrive. In the melee of capture, Wilby
resumes his normal appearance and Chiffon appears as himself. Franceska thinks
her dog a hero. So does the whole world when the story hits the papers. And
Wilby dares not open his mouth.
Who, after all, would believe him?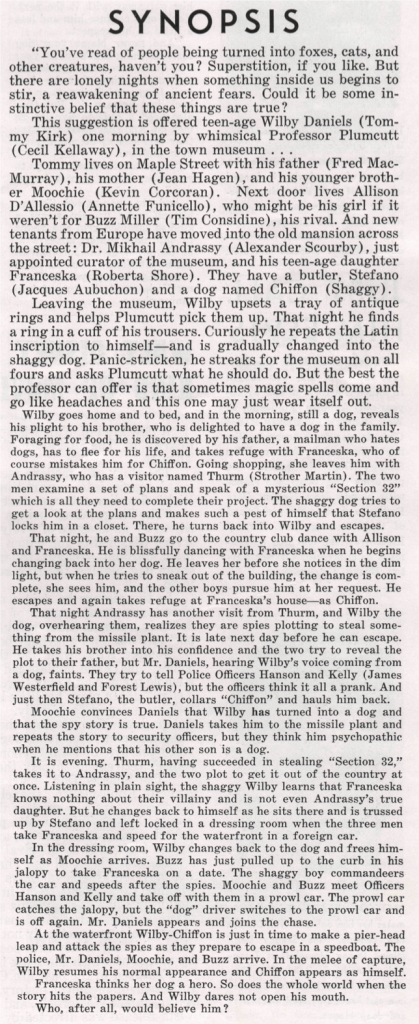 The post DHI's November Movie- "The Shaggy Dog": The Campaign Manuals Synopsis appeared first on Disney History Institute.
Please follow and like us: